Newton Lake
Newton Lake located in south central Illinois near Newton was built to provide cooling water for Newton's coal-burning power-generating station operated by Ameren, which is a public utility holding company. Nestled within the Newton Lake State Fish and Wildlife Area Newton Lake offers more than 1,775 acres of warm water, which is perfect for boat and bank fishing, especially in the spring and fall. The wildlife area provides areas for picnicking and 22 miles of trails for use by hikers, bicycle riders, horseback riders and cross-country skiers. There is no swimming allowed at Newton Lake.
Fishing

As the result of a successful stocking program, Newton Lake has produced some of the largest bass in Illinois. In addition, this lake has abundant populations of hearty crappie, walleye and catfish.
Newton lake allows pole and line fishing only, and each angler may use no more than two poles at a time.
The Illinois Department of Natural Resources Division of Fisheries offers "Hook-and-Line" and "Spear/Bow and Arrow" Sport Fishing Awards to recognize anglers for fish caught in Illinois' waters. (Click here for details.)
Search Newton Lake Resources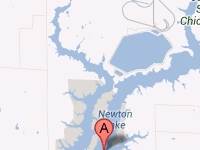 Coordinates:
38.9009N -88.2961W
Map It:
Lake Type:
Perched Cooling Lake
Surface Area:
1,775 acres
Maximum Depth:
35 ft
Elevation:
509ft
Normal Water Clarity:
3-6 ft
Major City:
Decatur
Airport:
Decatur