LaSalle Lake
Commonwealth Edison's LaSalle County Nuclear Station Cooling Pond, better known as LaSalle Lake, provides 2,058 acres of recreational waters for seasonal boating and fishing. Located near Marseilles, Illinois, this lake was built as a perched cooling lake for the LaSalle County Nuclear Power Generating Station. Formed by levees, which are higher than the surrounding land, the lake was designed to catch the wind so it will help cool the water impounded from the Mississippi River. As a result, boaters are urged to use extreme caution as conditions can become hazardous very quickly.
The dirt and rock, which was excavated during the construction of the lake, comprises the entire 11-mile shoreline. The lake is as much as 70 feet deep at the excavation areas, but the average depth is only 15 feet.
The lake has varying hours during the year. Click here for hours of operation.
Fishing

LaSalle Lake was open to public fishing in 1987 after the lake had been stocked with 10,000 8-10" channel catfish. Since then, the natural reproduction of the cats provides a tremendous population of this species in all sizes.
The most sought after fish in this lake include largemouth and smallmouth bass, white and yellow bass, hybrid striped bass, sunfish, bluegill catfish, walleye and freshwater drum.
Although fishing from a boat is common, a boat is not necessary to access the best fish in LaSalle Lake. Fishing from the rocky banks or the fishing pier allows ample access to the areas most populated with desirable fish. There is no bait sold, no close parking lots and no shade around LaSalle Lake. Bait, a bicycle, sunscreen and protective gear are important considerations for items to bring with you when fishing at LaSalle Lake.
The Illinois Department of Natural Resources Division of Fisheries offers "Hook-and-Line" and "Spear/Bow and Arrow" Sport Fishing Awards to recognize anglers for fish caught in Illinois' waters. (Click here for details.)
Search LaSalle Lake Resources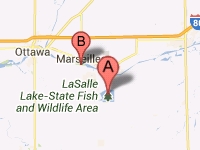 Coordinates:
41.2542N -88.6306W
Map It:
Lake Type:
Perched Cooling Lake
Surface Area:
2,058 acres
Maximum Depth:
71 ft
Elevation:
213ft
Normal Water Clarity:
2-10 ft
Major City:
Chicago
Airport:
Chicago