Lake Taylorville
Owned by the city of Taylorville, Taylorville Lake also known as Lake Taylorville, was created in 1962 by damming the South Fork of Illinois' Sangmon River, to provide a source of recreation and drinking water.
Bordered by two parks and the Lakeshore Golf Course visitors are delighted by the spectacular scenery surrounding Taylorville Lake. The lake provides more than 1,286 acres of clean, clear water contained by a 50-mile shoreline, which includes multiple coves.
Fishing

Proclaimed to be one of the top five fishing lakes in Illinois Taylorville Lake hosts several local fishing tournaments on a regular basis.
The most common / sought after fish in this lake are bass, perch, crappie and sauger as these are the species stocked on an annual basis. Fishing docks and easy shoreline access offer alternative locations from where anglers can cast their lines.
The Illinois Department of Natural Resources Division of Fisheries offers "Spear/Bow and Arrow" and "Hook-and-Line" Sport-Fishing Awards to recognize anglers for fish caught in Illinois' waters. (Click link at right to learn more.)
Search Lake Taylorville Resources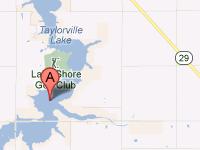 Coordinates:
39.4932N -89.2456W
Map It:
Lake Type:
Reservoir
Surface Area:
1,286acres
Maximum Depth:
30 ft
Elevation:
587ft
Normal Water Clarity:
5-8 ft
Major City:
Springfield
Airport:
Springfield