Lake Springfield
Lake Springfield, located in central Illinois near the city of Springfield is the largest city-owned lake in Illinois providing over 4,230 acres of multi-purpose waters, including waters in which to boat, swim and fish.
Created in 1931-1935 by the building of the Spaulding Dam across Sugar Creek, which is a tributary of the Sangamon River, Lake Springfield's primary purposes continue to be met. The lake provides a source of tap and drinking water for the people of Illinois' capital city of Springfield and surrounding towns, cooling water for the City Water, Light & Power coal-fired power-generating plant and recreational water for all to enjoy.
Culturally located, Lake Springfield not only borders Abraham Lincoln Memorial Garden, the Henson Robinson Zoo and a local arboretum, it is close to the University of Illinois' campus in Springfield.
Owned and operated by City Water, Light and Power, Lake Springfield and its 57 miles of shoreline, which includes over 735 residences, eight public parks and several public boat launch ramps, the lake and lake-area parks host over 600,000 recreational visitors each year.
Fishing

Lake Springfield is known to anglers for excellent catches of warm-water fish such as bluegill, largemouth bass, flathead catfish, blue catfish and crappie.
The Illinois Department of Natural Resources Division of Fisheries offers "Spear/Bow and Arrow" and "Hook-and-Line" Sport-Fishing Awards to recognize anglers for fish caught in Illinois' waters. (Click link on the bottom right for details.)
Search Lake Springfield Resources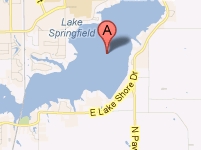 Coordinates:
39.6950N -89.6155W
Map It:
Lake Type:
Reservoir
Surface Area:
4,234 acres
Maximum Depth:
32 ft
Elevation:
560ft
Normal Water Clarity:
6-10 ft
Major City:
Springfield
Airport:
Springfield