Lake Shelbyville
Lake Shelbyville, located in central Illinois within 23,000 acres of land, which comprises the Shelbyville State Fish and Wildlife Area, offers 11,100 acres of recreational waters surrounded by beaches, hiking trails, marinas, boat ramps, and over 1500 campsites. Lake Shelbyville State Fish and Wildlife Area offers terrain conducive to hunting and fishing, which is the primary purpose of the area.
Lake Shelbyville extends about 17 miles from the Shelbyville Dam to the cities of Bethany and Sullivan with islands, inlets, coves and peninsulas that create its 250-mile shoreline. The US Army Corps of Engineers manages the lake while the Illinois Department of Natural Resources manages the wildlife area.
Two state parks, Wolf Creek State Park and Eagle Creek State Park, border much of Lake Shelbyville. Marinas, resorts and campgrounds are easily found on Lake Shelbyville, although shoreline development has been kept to a minimum to allow for spectacular views of the lake's natural beauty.
Fishing

While Bassmaster Magazine selected Lake Shelbyville as one of the best bass fishing lakes in Illinois, there are abundant populations of trophy-sized bluegill, walleye, channel catfish, muskie and crappie. In cooperation with the local Department of Natural Resources, The U.S. Army Corps of Engineers maintains sizeable fish populations in all these species.
Lake Shelbyville has produced some of Illinois' largest fish in many species. The record white bass weighed four-pounds two-ounces; the largest catfish was 48 inches long and weighed 62-pounds ten-ounces, the record largemouth bass weighed eight-pounds five-ounces and the record size muskie weighed 38-pounds eight-ounces.
Anglers will find six boat launching ramps designed for small fishing boats conveniently located around the lake.
The Illinois Department of Natural Resources Division of Fisheries offers "Spear/Bow and Arrow" and "Hook-and-Line" Sport-Fishing Awards to recognize anglers for fish caught in Illinois' waters. (Click link at the bottom right for details.)
Search Lake Shelbyville Resources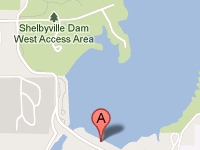 Coordinates:
39.47167N -88.7139W
Map It:
Lake Type:
Reservoir
Surface Area:
11,000 acres
Maximum Depth:
67 ft
Elevation:
600 ft
Normal Water Clarity:
3-6 ft
Major City:
Springfield
Airport:
Springfield