Lake Mattoon
Nestled in east central Illinois the municipally-owned Lake Mattoon boasts more than 1,050 acres of resourceful waters, which flow through three Illinois counties. Less than 300 acres flow through parts of Coles and Cumberland counties while nearly three-fourths of the lake flows in Shelby County. Lake Mattoon, completed in 1957 by the completion of a dam 12 miles southwest of the City of Mattoon was formed to provide a second lake to ensure an adequate water supply to the people of Mattoon and Neoga while also providing a recreational lake for boating and fishing enthusiasts. Although the lake's maximum depth is around 35 feet, the average depth is only ten feet. Four miles long by only a half mile wide, Lake Mattoon's 56-mile shoreline is defined by a lush and colorful treeline nestled among rolling farmlands.
Lake Mattoon continues to gain popularity as a favorite recreational site for seasonal camping, almost year-round fishing and boating and festive events, one of which is the Bagel Fest held in July.
Fishing

The city of Mattoon manages and stocks the lake with bluegill, bass, crappie and catfish, which has resulted in an abundance of healthy fish populations eager to bite on your bait. The city provides boat launch ramps, fishing piers and bank fishing areas, none of which are free of charge.
Anglers enjoy participating in the frequent fishing tournaments held on this lake while sailors enjoy competing in the sailboat races held here. The Annual Y-Flyer Fleet 39 Regatta is held every year during the second week of June.
The Illinois Department of Natural Resources Division of Fisheries offers "Hook-and-Line" and "Spear/Bow and Arrow" Sport Fishing Awards to recognize anglers for fish caught in Illinois' waters. (Click here for details.)
Search Lake Mattoon Resources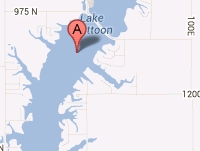 Coordinates:
39.3333N -88.4817W
Map It:
Lake Type:
Reservoir
Surface Area:
1,050 acres
Maximum Depth:
55ft
Elevation:
636ft
Normal Water Clarity:
2-10 ft
Major City:
Decatur
Airport:
Decatur