Lake Lou Yaeger
Lake Lou Yaeger, located in Montgomery County near Litchfield provides over 1,400 acres of recreational waters for boating, waterskiing, swimming, fishing and more.
The lake is eight miles long by a half mile wide framed by a breathtaking 45-mile shoreline covered by deciduous trees, among which, is a 300 acre park area. While two marinas and a beach provide services needed for taking to the water, the surrounding area provides playgrounds, picnic areas, horseback riding trails and campgrounds. Bird watching is popular at Lake Lou, especially since 2005 when bald eagles began nesting around the lake.
Although boating and fishing are permitted almost year round, the picnic and campgrounds are only open from April - October.
Fishing

The fish population in Lake Lou consists of large and healthy largemouth and white bass, crappie, bluegill and catfish. 
A fishing license is required and can be purchased at the lake.
The Illinois Department of Natural Resources Division of Fisheries offers "Hook-and-Line" and "Spear/Bow and Arrow" Sport Fishing Awards to recognize anglers for fish caught in Illinois' waters. (Click here for details.)
Search Lake Lou Yaeger Resources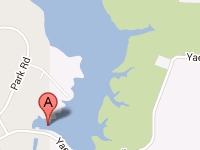 Coordinates:
39.1954N -86.6121W
Map It:
Lake Type:
Reservoir
Surface Area:
1,304 acres
Maximum Depth:
31 ft
Elevation:
591 ft
Normal Water Clarity:
1-3 ft
Major City:
Springfield
Airport:
Springfield