Lake Decatur
Lake Decatur is the largest lake on the Sangamon River, providing over 2,900 acres of resourceful water to the city of Decatur. Owned and operated by the City of Decatur, the man-made lake provides a source of tap water for the people and industry of Decatur, Illinois. In fact, most of the water from this lake is used in the processing of corn products and ethanol. While nearly three-fourths of Lake Decatur's waters are used for industrial and commercial purposes, the lake provides swimming, boating and fishing opportunities, as well.
Sections of the lake's 30-mile shoreline define borders for the Scovill Zoo as well as Faries Park and Nelson Park, which are two of Decatur's largest municipal parks.
Fishing

Bass, crappie and walleye are among the heartiest of the fish which inhabit Lake Decatur's waters. Anglers rarely leave this lake unsatisfied.
The Illinois Department of Natural Resources Division of Fisheries offers "Hook-and-Line" and "Spear/Bow and Arrow" Sport Fishing Awards to recognize anglers for fish caught in Illinois' waters. (Click here for details.)
Search Lake Decatur Resources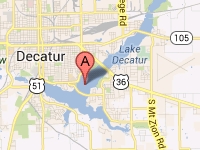 Coordinates:
39,8624N -88.9565W
Map It:
Lake Type:
Reservoir
Surface Area:
2,905 acres
Maximum Depth:
22 ft
Elevation:
613ft
Normal Water Clarity:
0-1 ft
Major City:
Decatur
Airport:
Decatur