Kinkaid Lake
Kinkaid Lake, located five (5) miles north of Murphysboro, Illinois and 100 miles southeast of St. Louis, Missouri provides 2,750 acres of recreational waters with an average depth of 39 feet. Ownership of the land surrounding the lake is divided among the Kinkaid-Reed's Creek Conservancy District, which administers 300 acres; the Illinois Department of Natural Resources, which manages approximately 4,000 acres; and the U.S. Forest Service, which oversees 5,000 acres.
Boating, fishing, hunting, hiking and camping are available at Kinkaid Lake and the Kinkaid Lake State Wildlife Area.
Fishing

The most sought after fish in this lake include bluegill, crappie, largemouth bass, walleye, muskie and catfish.
Although Kinkaid Lake is well known for its muskie population, it has an unusually high population of channel catfish that are often overlooked.
The Illinois Department of Natural Resources (IDNR) Division of Fisheries offers "Spear/Bow and Arrow" and "Hook-and-Line" Sport-Fishing Awards to recognize anglers for fish caught in Illinois' waters. (Click link on the bottom right for details.)
Search Kinkaid Lake Resources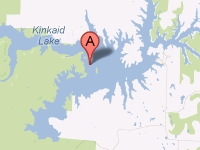 Coordinates:
37.8031N -89.4501W
Map It:
Lake Type:
Reservoir
Surface Area:
2,750 acres
Maximum Depth:
62 ft
Elevation:
567 ft
Normal Water Clarity:
3-6 ft
Major City:
St. Louis, MO
Airport:
St. Louis, MO