Crab Orchard Lake
Crab Orchard Lake, the largest of three man-made lakes nestled within the Crab Orchard National Wildlife Refuge in southern Illinois near Carbondale was created for flood protection and recreation in 1930 by the construction of a dam on Crab Orchard Creek, which is a tributary of the Big Muddy River. This lake provides over 4,700 acres of recreational waters for boating, fishing and swimming while the surrounding refuge offers campgrounds, environmental education, seasonal hunting areas and wildlife observation areas.
Fishing

Larger-than-average-sized species produced in Crab Orchard Lake include black crappie, bluegill, largemouth bass and channel catfish. Other popular species found in this lake include carp, freshwater drum, striped and hybrid-striped bass, muskellunge, bullhead, sunfish, warmouth and more.
The Illinois Department of Natural Resources (IDNR) stocked Crab Orchard Lake with largemouth bass. In 2006, they installed artificial spawning beds in the lake's Grassy Bay. Bass Fishing Tournaments occur several times each year on Crab Orchard Lake. In 2008, the record largemouth bass weighed 10.6 pounds.
The Illinois Department of Natural Resources Division of Fisheries offers "Spear/Bow and Arrow" and "Hook-and-Line" Sport-Fishing Awards to recognize anglers for fish caught in Illinois' waters. (Click Link at right to learn more.)
Search Crab Orchard Lake Resources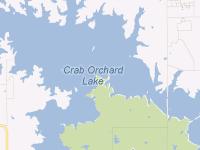 Coordinates:
37.7189N -89.0926W
Map It:
Lake Type:
Reservoir
Surface Area:
6,965 acres
Maximum Depth:
30 ft
Elevation:
405 ft
Normal Water Clarity:
1-3 ft
Major City:
St. Louis, MO
Airport:
St. Louis, MO