Clinton Lake
Clinton Lake, nestled within the 9,950-acre Clinton State Recreation Area (SRA) three miles east of Clinton in central Illinois, provides over 4,754 acres of inviting waters for year-round recreation. Built in the 1970s as a cooling source for Clinton Nuclear Power Generating Station, the lake opened to the public in 1978.
Although fishing has been its main attraction, a wide selection of recreational opportunities are available at Clinton Lake, which include picnicking, hiking, camping, boating, water skiing, horseback riding and hunting for upland game.
A white-sand beach at Clinton Lake designated for swimmers and sunbathers is open from Memorial Day through Labor Day, 10 a.m. to 7 p.m., 7 days a week, when weather permits. The beach includes changing rooms with showers and restrooms, but no lifeguards are present. While swimming is permitted in other areas of the lake, swimming within 100 yards of bridges, boat docks or ramps is prohibited.
Located close to the beach is a full-service concession offering a menu of sandwiches, snacks, beverages and its ever-popular fish dinner. The concession also sells bait, camping supplies, firewood, ice, and boats can be rented from there.
For winter fun, Clinton Lake offers cross country ski facilities and snowmobiling is allowed when conditions allow.
Fishing

Clinton Lake is well-known as one of the best lakes in Illinois for catching catfish and other gamefish. Some of the best fishing spots are in the upper arms of the lake, on the banks adjacent to the bridges and in the spillway. These areas yield large numbers of good-sized walleye, hybrid and pure stripers, crappie and catfish. Other areas of Clinton Lake provide good populations of large and smallmouth bass, white bass and bluegill. Anglers enjoy reeling fish in from the Old Creek channels or submerged flats..
Site-specific size and creel limits are in effect for most species.
The Illinois Department of Natural Resources Division of Fisheries offers "Spear/Bow and Arrow" and "Hook-and-Line" Sport-Fishing Awards to recognize anglers for the fish they caught in Illinois' waterways. (Click Link at right to learn more)
Search Clinton Lake Resources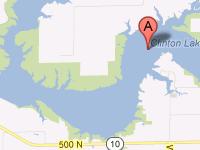 Coordinates:
40.1389N -88.8765W
Map It:
Lake Type:
Reservoir
Surface Area:
4,754 acres
Maximum Depth:
48 ft
Elevation:
690 ft
Normal Water Clarity:
4 ft
Major City:
Bloomington
Airport:
Bloomington