Baldwin Lake
In Illinois' west central region, situated in Kaskaskia River State Fish and Wildlife Area, Baldwin Lake provides 2,018 acres of recreational waters, which also serve to cool the coal-burning, power generating plant located in Baldwin, Illinois. Whereas most lakes are reservoirs created by the construction of dams across rivers and creeks, Baldwin Lake is a "perched cooling lake" created by the building of a levee. Because few, if any, tributaries feed the lake, its elevation is maintained by rainfall and pumping water from the Kaskaskia River.
While the Illinois Power Company owns and operates the lake for its own purposes, the Illinois DNR manages the recreational activities and public use areas around the lake including boating, fishing and waterfowl viewing. Picnic facilities include drinking water and flushable toilets.
One of the largest state-run facilities in Illinois, with more than 20,000 acres of wildlife habitat that includes16,000 acres of mature forests, fields and open areas, Kaskaskia River State Fish and Wildlife Area offers 12 miles of hiking trails and 14,000 acres of hunting grounds.
Fishing

Baldwin Lake offers excellent fishing opportunities all year round. Anglers love to reel in largemouth bass, hybrid striped bass, bluegill, carp and crappie from the shore or a boat.
Baldwin Lake holds the state record for producing the largest channel catfish caught in Illinois. In 1987, Todd Baumeyer's catch weighed 45-pounds four-ounces.
Baldwin Lake is open daily from 6 a.m. to 7 p.m. Posted site-specific regulations for largemouth and hybrid striped bass and crappie are enforced.
The Illinois Department of Natural Resources Division of Fisheries offers "Hook-and-Line" and "Spear/Bow and Arrow" Sport Fishing Awards to recognize anglers for fish caught in Illinois' waters. (See "Resources for this page" to learn more.)
Search Baldwin Lake Resources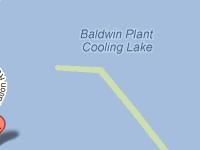 Coordinates:
38.2169N -89.8767W
Map It:
Lake Type:
Perched Cooling Lake
Surface Area:
2,018 acres
Maximum Depth:
423 ft
Elevation:
50 ft
Normal Water Clarity:
1-2 ft
Major City:
St. Louis, MO
Airport:
St. Louis, MO