Anderson Lake
Anderson Lake, a bottomland impoundment adjacent to the Illinois River in west central Illinois' city of Astoria provides 1,134 - 1,369 acres of recreational waters suited for boating and fishing. By receiving overflow waters from the Illinois River, Anderson Lake is known as a floodplain lake and is quite shallow.
Offering good shoreline access and a new road, Anderson Lake provides excellent fishing with trout lines and from shore, especially during periods of high or rising water.
The Anderson Lake State Fish and Wildlife Area, part of the Illinois State Parks' system consists of more than 2,250 acres of public land purchased by the state in 1947 for its suitability for seasonal hunting and fishing grounds. The State Fish and Wildlife Area offers several picnic areas, two group shelters and a campground.
Fishing

Anglers come to Anderson Lake to reel in bass, crappie, bluegill, bullhead and channel catfish. Ice fishing for bluegill and crappie is common in the winter. Please note that the Illinois River's 12-inch minimum size bass regulation applies for Anderson Lake, as well.
The Illinois Department of Natural Resources Division of Fisheries offers "Spear/Bow and Arrow " and "Hook-and-Line " Sport Fishing Awards to recognize anglers for fish caught in Illinois' waters. (See "Resources for this page" to learn more.)
Search Anderson Lake Resources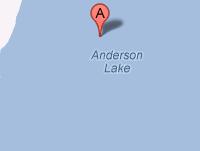 Coordinates:
40.1998N -90.1848W
Map It:
Lake Type:
Reservoir
Surface Area:
1,134 acres
Maximum Depth:
7 ft
Elevation:
443 ft
Normal Water Clarity:
3ft
Major City:
Peoria
Airport:
Peoria