Walter F. George Lake
The Walter F. George Lake, also known as Walter F. George Reservoir, Lake George or -- in Alabama -- Lake Eufaula, was formed when the U.S. Army Corps of Engineers impounded the Chattahoochee River with the Walter F. George Dam at Fort Gaines, Georgia, in 1962. This is the largest dam in the Chattahoochee River basin and the second most visited reservoir in this river basin in Georgia. The reservoir shares borders with both Georgia and Alabama. The lock, with a lift of 88 feet, is one of the highest lock systems in the nation.
The lake is controlled mostly by the U.S. Army Corps of Engineers, but Alabama and Georgia also maintain areas such as the Eufaula National Wildlife Refuge and the Lakepoint State Park -- both in Alabama -- and the George T. Bagby and Florence Marina state parks in Georgia. Visitors also can enjoy a number of restaurants, hotels, and shopping areas in the area and along this lake's 640 miles of shoreline.
Fishing

This lake enjoyed a heyday of largemouth trophy fishing in the 1960s and 1970s, and it still is considered the "Bass Fishing Capital of the World." Crappie also are abundant in this lake, and most samplings were over ten inches long. Other species in this lake include bream, catfish, striped bass, and spotted bass. Ernest Timpson caught the Georgia record blue catfish at 80 pounds and four ounces from this lake in February, 2010.
In most cases, creel and possession limits are the same both states along the river and its reservoirs.
Search Walter F. George Lake Resources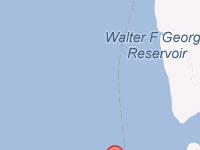 Coordinates:
31.8892N -85.1536W
Map It:
Lake Type:
Reservoir
Surface Area:
45,100 acres
Maximum Depth:
20 ft
Elevation:
190 ft
Normal Water Clarity:
3 ft
Major City:
Columbus
Airport:
Columbus