Lake Oconee
Georgia Power impounded the Oconee River and created Lake Oconee when they completed the Wallace Dam in 1979. Located in central Georgia between Atlanta and Augusta, the lake offers over 400 miles of shoreline and three 85-acre parks that contain beaches, camping facilities, and public boat ramps. The lake is popular for fishing, boating, swimming, skiing, wakeboarding, and other water sports.
Lake Oconee is the second largest lake in Georgia after Lake Sidney Martin, covering over 15,000 acres along a course that runs over 20 miles. The lake separates Greene, Morgan, and Putnam Counties, and it feeds directly into Lake Sinclair downstream. The northern portion of the lake lies in Oconee National Forest, part of the Chattahoochee-Oconee National Forest system.
Fishing

Lake Oconee features a wide variety of fish species for anglers, including a complete range of catfish, bluegill, crappie, largemouth, striped, white, and hybrid striped white bass, redbreast and redear sunfish, and yellow perch. Lake resident Billy Brantley broke Lake Oconee's largemouth bass record in 2012 when he pulled in a twelve-pound, fourteen-ounce largemouth using a Texas-rigged lizard. The previous record was set in 1990 at twelve pounds, nine ounces.
The Lake Oconee area newspaper, the Lake Oconee Breeze, offers a great section on outdoor sports that can keep you up to speed on fishing techniques and issues throughout the year.
Search Lake Oconee Resources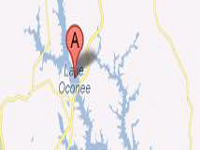 Coordinates:
33.3500N -83.1570W
Map It:
Lake Type:
Reservoir
Surface Area:
15,330 acres
Maximum Depth:
95 ft at dam
Elevation:
434 ft
Normal Water Clarity:
3 ft
Major City:
Atlanta
Airport:
Atlanta