Chatuge Lake
Chatuge Lake is a Tennessee Valley Authority (TVA) reservoir that was completed in 1942 by impounding the Hiwassee River in Clay County, North Carolina. The resulting 7,000-acre lake straddles the North Carolina-Georgia state line, providing water recreation for boaters and anglers. The dam is located about 121 miles from of the mouth of the Hiwassee River where it meets the Tennessee River.
Chatuge Lake is surrounded by the Nantahala National Forest in North Carolina and by the Chattahoochee National Forest in Georgia. Despite this seeming isolation, real estate and lodging availability abounds north and south at the closest towns of Hayesville, NC and Hiawassee, GA. Numerous coves and fingers in this lake provide over 132 miles of shoreline filled with camping and water recreation spots.
Fishing

Anglers can enjoy great sport fishing both in Chatuge Lake and in the Hiwassee River below the dam. TVA installed a concrete weir below the dam to increase oxygen levels for fish, which provides a great environment for wade fishing for trout. Although the lake is basically infertile and clear, anglers have captured some prize fish here in past years. Jack Hall caught a state record seven-pound, two-ounce smallmouth bass here in 1973. A previous world record hybrid bass at 25 pounds, eight ounces was caught in Georgia's portion of Chatuge Lake in 1995. The hybrid bass population was not stocked from 1996 to 2009, so it almost disappeared until 2010 and 2011, when the GA-DNR began stocking the hybrid bass again.
Best bets today for fishing in the lake include largemouth, spotted, and white bass and bluegill. Crappie are available, but not prolific. Channel catfish and carp will bite just about anything you might drop in the water at this lake.
Anglers in boats on the lake and its tributaries are covered if they have either a GA or NC fishing license and are not anchored to the shore or to a pier or boat dock. Shoreline fishing or wading must be accompanied by licenses from the shores from which you are fishing, and anglers must follow all the regulations from that particular state. Senior and youth licenses exemptions are honored by both states on the lake.
Search Chatuge Lake Resources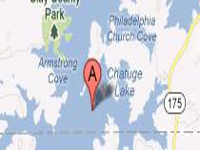 Coordinates:
35.0175N -83.7911W
Map It:
Lake Type:
Reservoir
Surface Area:
7,500 acres
Maximum Depth:
25 ft
Elevation:
361 ft
Normal Water Clarity:
3 ft
Major City:
Asheville, NC
Airport:
Asheville, NC