Table Rock Lake
In a chain of four man-made lakes which include Arkansas' Beaver Lake; Missouri's Lake Taneycomo; Bull Shoals Lake, which lies farthest downstream in both Arkansas and Missouri; Table Rock Lake, which also straddles the Missouri, Arkansas border provides 43,100 acres of consistently warm water contained by an 800-mile shoreline in southwest Missouri and northwest Arkansas.
Table Rock Lake, created by the building of the third of four dams on the White River, the 350 foot Table Rock Dam built in 1958 by the US Army Corps of Engineers for flood protection and power generation, is known as one of the best fishing lake in the United States.
One of the consequences of being a power-generating body of water includes the fact that the water stays consistently warm. With help by the warmth from the summer sun, Table Rock Lake stays around 80 degrees Fahrenheit all season long.
Table Rock Lake's reputation for being clean, clear, deep and warm brings thousands of visitors every year who enjoy fishing, boating, scuba diving in deep clear waters, para-sailing, water skiing and most any other water sport. Daily showboat cruises provide food, a show, and sightseeing while excursions on a 48-foot sailing catamaran invite passengers to help crew the boat.
Fishing

Nationally-known Bass Fishing Tournaments are frequently held on Table Rock Lake.
Bluffs, gravel, rocks and cedar trees comprise the shoreline, which provides excellent habitat for large and smallmouth bass, white bass, crappie, bluegill, bullhead, carp, walleye and catfish, among other varieties of game fish.
Table Rock Lake has produced many record sized fish of diverse species. In 2004, Mark Fann caught a five-pound ten-ounce Hybrid Black Bass and in 2002, three record fish were caught: A four-pound three-ounce Smallmouth Bass, a five-pound six-ounce White Bass and a 139-pound four-ounce Paddle-fish.
When fishing from shore near the dam, be sure to abide the sounding of the horn and get out of the water. The horn indicates that power generation is about to begin, which causes a rapid rise in the water depth and increase in the speed of the current. The water can rise several feet in a matter of minutes.
Search Table Rock Lake Resources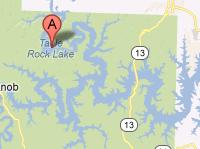 Coordinates:
36.4931N -93.3000W
Map It:
Lake Type:
Reservoir
Surface Area:
43,100 acres
Maximum Depth:
220 ft
Elevation:
915 ft
Normal Water Clarity:
6-10 ft
Major City:
Fayetteville
Airport:
Fayetteville