Millwood Lake
The U.S. Army Corps of Engineers built Arkansas's longest earthen dam across the Little River, creating Millwood Lake in 1966. This lake is well recognized for its beauty and for its bass fishing. Bird watchers also are visiting this lake often, as 333 different bird species were sighted back in 2001. A state park located on the southeast shore provides a full-service marina and camp sites, and easy access to Texarkana makes this lake a popular place for campers and anglers.
Fishing

Much of this lake's 29,260 acres surround flooded timber, which makes exceptional cover for largemouth, spotted, striped, and white bass, crappie, catfish, and bluegill. A series of boat lanes weave through this timber and through marshes and oxbow cutoffs, providing hours of pleasurable fishing for anglers who are searching for that lunker largemouth bass.
Millwood Lake hosts numerous bass fishing tournaments and fishing derbies sponsored by local and out-of-state organizations. Although no fish from this lake have made the record books, an alligator caught in the "lost lakes" area below the dam in Hempstead County in September 2012 made the books at thirteen feet, three inches and weighing 1,380 pounds. Just recently, Catfishing Magazine named this lake as one of the top ten catfish lakes in the U.S.
Search Millwood Lake Resources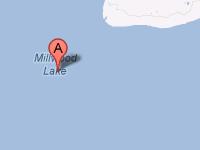 Coordinates:
33.7638N -94.0205W
Map It:
Lake Type:
Reservoir
Surface Area:
29,260 acres
Maximum Depth:
25 ft
Elevation:
259 ft
Normal Water Clarity:
3 ft
Major City:
Texarkana
Airport:
Texarkana