Lake Chicot
North America's largest oxbow lake is in Arkansas. Lake Chicot also is Arkansas's largest natural lake at over 5,000 acres. With a long history dating back to Hernando de Soto, this lake has seen slave plantations, the largest Civil War battle to occur in Chicot County, and the first night flight made by Charles Lindbergh in 1923. Today, this lake hosts a spectacular state park with camping and a marina. Bird watchers know this lake because it is situated along the Mississippi Flyway, and anglers flock here as well for the excellent fishing.
Lake Chicot has what is known as an "upper" and "lower" lake. The Lake Chicot State Park is located on the upper lake and that park provides access to this portion of the lake. Access to the lower lake is at several points along U.S. Highways 65 and 82 and AR Highways 144 and 159.
Fishing

The Arkansas Game and Fish Commission (AGFC) initiated a project in 1968 with the U.S. Army Corps of Engineers and the Chicot County Rural Development Authority to clean up Lake Chicot after a dam project pushed silt and mud into this formerly pristine lake. The Corps drew down the lake water to compact bottom sediment and seed the lake with plants to provide today's food base for fish. The lake was restocked, and is now recovered.
This lake also features shoreline environments that treat fish well, such as cypresses, willows, dead timber, and docks. Anglers can expect to fish earlier in the season because of this lake's southern location. Look for bluegill, channel catfish, largemouth and hybrid striper bass, crappie, redear sunfish, and bream. The largemouth Florida-strain bass are stocked here, so be prepared!
Search Lake Chicot Resources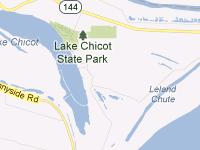 Coordinates:
33.3225N -91.2783W
Map It:
Lake Type:
Reservoir
Surface Area:
5,300 acres
Maximum Depth:
25 ft
Elevation:
108 ft
Normal Water Clarity:
3 ft
Major City:
Greenville, MS
Airport:
Greenville, MS