Horseshoe Lake
Horseshoe Lake is a private 2,362-acre horseshoe-shaped (oxbow) lake located six miles east from Hughes, Arkansas, along the western banks of the Mississippi River. Although a private lake, the public is allowed to boat and fish here. The lake is well known for its open water and for its massive ancient cypress tree stands, as well as coves fit for anglers. The lake also encompasses other smaller lakes such as Mud Lake, Bushy Lake, Goose Lake, and Porter Lake. All these lakes are circled by a road called "Horseshoe Circle," which anglers or boaters can use to gain access to fish, water ski, and boat.
Changes in the course of the Mississippi River created this lake, which is located in the flood plains. You'll see houses on stilts sitting out over the lake to accommodate for flooding in the area.
Fishing

Anglers covet the largemouth bass that use the cypress stands for habitat. Bluegill also are prominent in this lake.
Search Horseshoe Lake Resources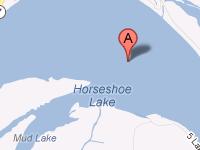 Coordinates:
34.9159N -90.3545W
Map It:
Lake Type:
Reservoir
Surface Area:
2,362 acres
Maximum Depth:
15 ft
Elevation:
171 ft
Normal Water Clarity:
3 ft
Major City:
Memphis, TN
Airport:
Memphis, TN