Bull Shoals Lake
Bull Shoals Lake, found in Northern Arkansas and Southern Missouri amidst the Ozark Mountains, covers 45,440 acres of water controlled by the Army Corps of Engineers. In a chain of four man-made lakes which include Arkansas' Beaver Lake, Table Rock Lake, which lies in both Arkansas and Missouri, and Missouri's Lake Taneycomo, Bull Shoals Lake is the farthest downstream. Originally built for flood control, Bull Shoals Lake provides year-round recreational opportunities.
More than29,000 acres of deep, clear, blue waters in Arkansas, Bull Shoals Lake attracts water sports' lovers looking for alluring opportunities to go boating, water skiing, wake boarding, sailing, scuba diving, swimming and fishing.
The area around Bull Shoals Lake on the Missouri side offers opportunities for hunting, hiking, horseback riding, and camping.
Fishing

Hundreds of miles of lake arms, inlets, and coves comprise Bull Shoals Lake, which rarely freezes, thereby providing excellent year-round freshwater fishing opportunities for reeling in a variety of species.
Some of the most sought after fish in Bull Shoals Lake include largemouth and smallmouth bass, black bass, white bass, striped bass, bluegill, bream and crappie. Night fishing yields good catches of stripers, walleye and trout.
Bull Shoals Lake holds several state records for producing the largest of several fish species caught in Arkansas and Missouri. Such records include: a 13-pound 14-ounce Largemouth Bass caught in 1961; a seven-pound five-ounce Smallmouth Bass caught in 1969; a five-pound four-ounce White Bass and a seven-pound 15-ounce Spotted Bass caught in 1983; a 21-pound one-ounce Walleye caught in 1988; a 27 pound Gar caught in 1999; a one-pound 11-ounce Yellow Perch caught in 2009, and most recently, a 60-pound nine-ounce Striped Bass caught in 2011.
In addition to the fish caught in the lake, Bull Shoals Lake holds several Arkansas and Missouri state records for cutthroat and rainbow trout, which gives it recognition as a prime fishery.
Search Bull Shoals Lake Resources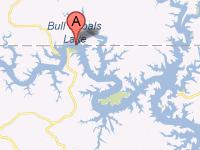 Coordinates:
36.3851N -92.5547W
Map It:
Lake Type:
Reservoir
Surface Area:
45,440 acres
Maximum Depth:
204 ft
Elevation:
654 ft
Normal Water Clarity:
10+ ft
Major City:
Fayetteville
Airport:
Fayetteville