West Point Lake
The U.S. Army Corps of Engineers impounded the Chattahoochee River in 1975 with the West Point Dam, located near West Point, Georgia just north of Lake Harding, Goat Rock Lake, and Lake Oliver. The dam controls seasonal flooding and provides power to the region. This reservoir also is tasked to reserve water for release during dry periods to help maintain water levels in the navigable inland waterways that run from Columbus, Georgia, to the Gulf of Mexico -- the Chattahoochee River and the Apalachicola River.
West Point Lake is the third most-visited reservoir for recreation in the basins of the Apalachicola, Chattahoochee, and Flint rivers, and one of Georgia's largest lakes. The 525 miles of shoreline along this lake provide facilities and parks that offer camping, sunning, swimming, and hunting. Although only a portion of this lake is located in Alabama, anyone visiting on that portion of the lake can enjoy state parks, water recreation, and fishing from Alabama's shorelines.
Fishing

After a drop in bass fishing caused by an improved sewage facility in the Atlanta metropolitan region, the lake now is rebounding with an increase in threadfin and gizzard shad. Anglers can try their hands at largemouth bass, spotted bass, hybrid striped bass, white bass, bluegill, sunfish, crappie, and channel catfish.
Fishing licenses from Alabama and Georgia are valid, "with the exception of that portion of West Point Reservoir lying upstream (north) of Georgia Highway 109 Bridge on the Chattahoochee River arm of said reservoir."
Search West Point Lake Resources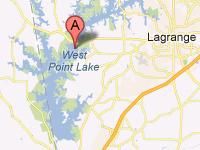 Coordinates:
32.9185N -85.1880W
Map It:
Lake Type:
Reservoir
Surface Area:
25,864 acres
Maximum Depth:
70 ft
Elevation:
625 ft
Normal Water Clarity:
3 ft
Major City:
Montgomery
Airport:
Montgomery